WebBrowserPassView – Recover Passwords from Web Browsers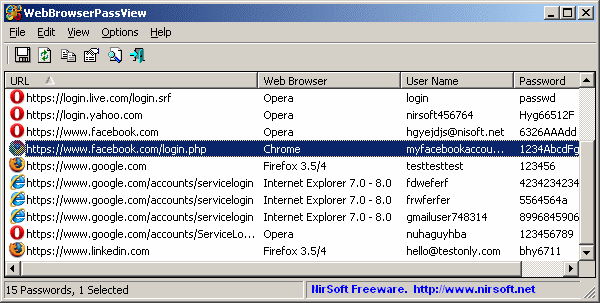 WebBrowserPassView is a small, portable and freeware utility designed to recover passwords from:
Internet Explorer (Version 4.0 – 9.0)
Mozilla Firefox (All Versions)
Google Chrome
Opera

Once WebBrowserPassView has gathered all the passwords from the various browsers, it displays them in a single table with the URL the password was saved for, what browser it was saved in and of course the username and password.

From there, you can save it as a TXT file, export the table as HTML and more. This product was created by Nirsoft and in true Nirsoft fashion, the application is very easy to incorporate into scripts due to its excellent command line support.

This utility works on any version of Windows, starting from Windows 2000, and up to Windows 7, including 64-bit systems.