UnDBX – Recover Emails From Outlook Express Databases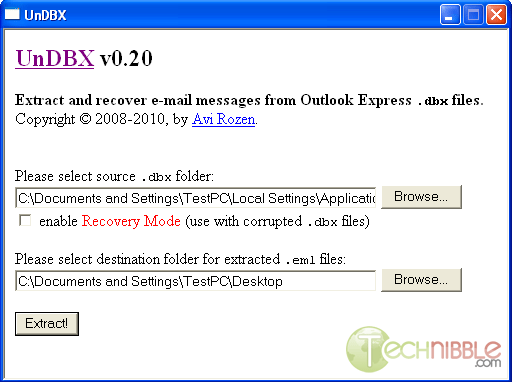 UnDBX is a small, portable and freeware application designed to recover emails from Outlook Express databases.
Outlook Express databases can be vulnerable to corruption for many reasons, but the main one is when the databases become very large. Once it corrupts, Outlook Express will not be able to use the database and therefor it will be difficult to recover the emails it contains.
UnDBX will take the individual emails in the database and export them as .EML files which you can then open one by one.

To use this application, select the folder where your Outlook Express .DBX files are located (this is usually filled out for you) and then select the folder you would like to extract the .EML files to. Just press the Extract button and you are on your way.

Note: This tool will not work on Windows Vista or 7 as both of those use "Windows Mail" rather than Outlook Express. Having said that, you probably are more likely to encounter a database that got corrupted from Outlook Express since to grow to that size the client is usually using it for years.
Download:
Code:
http://code.google.com/p/undbx/downloads/list