Perfect PDF® 9 Converter: new version of PDF and XPS converting program for powerful processing of PDF documents. PDF and XPS: converting from arbitrary applications, comment and display documents, fill and save forms.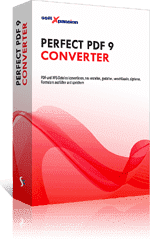 Perfect PDF 9 Converter:
converts any printable file into a PDF using the print to PDF function. A conversion between PDF and XPS documents is an important function of the program.
Perfect PDF 9 Converter
can be integrated in Windows Explorer, Microsoft Office (Word, Excel, PowerPoint, Outlook, Visio and Project), OpenOffice.org (Writer, Calc, Impress, Draw, Base, Math), Internet Explorer, Mozilla Firefox and Thunderbird. From within these applications you can generate PDF files with just one click.
Functions at a Glance
•

PDF-printer: create PDF-files out of every application with print function on a virtual printer

•

Create PDF-files out of text-, RTF-, XPS- or imagefiles or out of scanned images

•

Integration in other software-packages. Import of meta data out of Microsoft Office-documents: links, form fields, bookmarks, comments.

•

Edit PDF-documents

•

Advanced search function in folders and embedded PDF-files

•

Snapshot, tape measure, selection tools, magnifier
Available languages:



System Requirements & License Conditions