is a kind of photo editing software tool intended for converting photographs to pencil sketches. This program enables users to make usual photographs into exquisite pencil-drawn pictures, both black-and-white and colored. While creating a pencil sketch, you can choose your most preferred settings and options. There are two ways you can edit photographs with SoftOrbits: manually and by aid of ready-made presets. These presets can be used as guides by beginners.
Turn your digital photos into works of art! SoftOrbits Sketch Drawer Pro converts pictures to sketches in just a few button clicks and a few slider tweaks.
This photo to sketch converter produces a colorful hand-made drawing out of an ordinary photograph, laying accurate pencil strokes even if you can't hold a pencil. Sketch Drawer makes converting photos to sketches fun!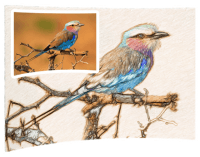 Free Sketch Drawer Pro (100% discount) - SharewareOnSale