reviews

There is no data garbage left and thus more memory and performance for your computer.
With (co-) installation of any malware such as adware etc. you can usually rewind without problems. So only in very difficult cases does the antivirus have to run or reinstall.
The second advantage then became relevant unexpectedly quickly:
Since I had seen that a new version of the VLC media player had been released, I wanted to install this version and then rewind it and document it for you.
No sooner said than done and off to the search engine of my trust:
Quickly clicked on the (supposed) VLC homepage, downloaded the program and recorded it with Revo:

Strange things are happening ...
A few hours later I wanted to write the newsletter and was expected by a somewhat strange program called Updater. Since I have tried a lot of software and have also been testing various update programs for software and drivers recently, I did not immediately listen.
Then I saw that there was no program interface and no entry in the start menu for this window. The alarm rang now.
The cause was almost certain: The last installation, since the window of the program also contained the corresponding information.
After a brief cross-check with an antivirus, the suspicion is confirmed:

According to the antivirus, it was malware (more precisely, a so-called "PUP" potentially unwanted program) or at least unwanted software. Of course I didn't get that from the official website of the VLC player, but from a similar site that also appeared high up in the search results ... Fortunately, this is not a problem for the Revo Uninstaller:
Fortunately, after clicking on Uninstall everything was fine again! Below you can see that the corresponding entries have been recorded and thus also uninstalled.
And my moral from history?
Better not trust my brain ...
Translated a little more nicely for me: It is always good to have one or the other double bottom. In any case, I am getting used to doing all installations in peace with the Revo Uninstaller and hope that you will continue to do so in the future. If, in the worst-case scenario, you want to replay the happy outcome of my story, go ahead and secure the Revo Uninstaller at the loyalty price!
Your purchase includes updates for two years. After the two years, the license is still valid indefinitely. You just don't receive any more updates.
Simply install more secure software ...
So now for the original purpose of this newsletter. A brief guide on how to use Revo software to install more securely than stupidly :
IMPORTANT:
Please close all other programs before installing and do nothing or nothing else on your PC until the end. Otherwise, Revo may believe that this other activity is part of the installation.
After the download, open the Revo Uninstaller and click on "Install application with Revo Uninstaller Pro" on the left.



Then a Windows Explorer window opens in which you can select the application to be installed.
Now wait until the installer has run through completely and start the program you just installed once. If initial settings are necessary, do this too.


Close the program and click the "Stop" button. That's it! You should now also have a nice log file, just like me above.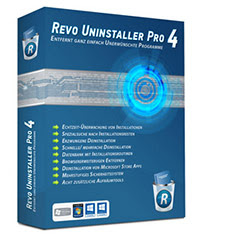 Your loyalty price
for
softwarestars.org
readers
instead of UvP: € 39.95 *
Your price: only € 19.95




[id]=48942&coupon-code-to-add=TREUE-20']
Of course, the offer for the portable version still applies:
Your purchase includes updates for two years. After the two years, the license is still valid indefinitely. You just don't receive any more updates.
The portable version is particularly useful if you are a PC technician, administrator or PC emergency helper for friends and family!
But the portable version also helps with more than one computer that could possibly cause problems at home! What's new in version 4? Since this newsletter is already a bit long anyway , I will simply send you the link to the last newsletter again. There you will find all information about version 4 in great detail
60 days money back if you don't like it!