MessenPass – Recover Lost Instant Messenger Passwords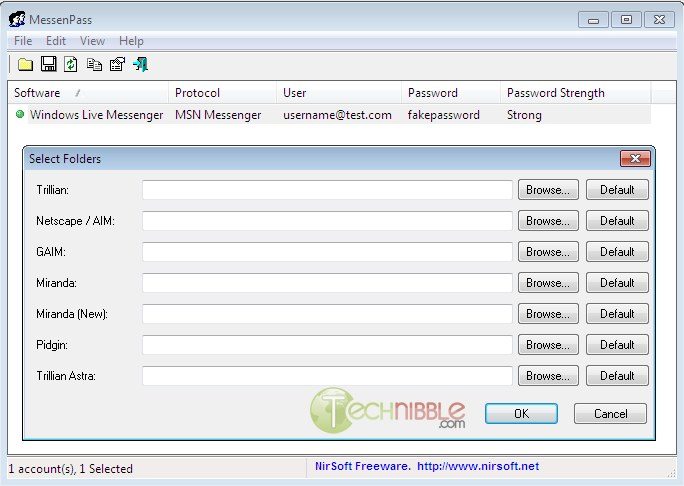 Did your client forget their Instant Messenger password? Messenpass is a portable, freeware application designed to show the passwords of a variety of instant messengers. Supported programs include:
MSN Messenger
Windows Messenger (In Windows XP)
Windows Live Messenger (In Windows XP/Vista/7)
Yahoo Messenger (Versions 5.x and 6.x)
Google Talk
ICQ Lite 4.x/5.x/2003
AOL Instant Messenger v4.6 or below, AIM 6.x, and AIM Pro.
Trillian
Trillian Astra
Miranda
GAIM/Pidgin
MySpace IM
PaltalkScene
Digsby

Messenpass applies to the current user logged in on the computer and it only works if one of the above programs was set to remember passwords. It can't be used to grab passwords of other users. When Messenpass is run it automatically detects installed IM programs and decrypts any stored passwords, showing them in the Messenpass window. If it fails to detect any installed IM program they can be manually added with the 'Select Folder' option from the File menu. In the main page of Messenpass any passwords can be selected and copied to the clipboard in a tab-delimited format.

Messenpass also has command line options which are shown in a table on the web page.