Higher File Access Speed
Disk fragmentation is generally the main cause of slow and unstable computer performance. In order to accelerate your hard drive for faster data access and outstanding disk performance, provides efficient defragmentation technology to hard drives and SSD using multi-threading defragging whilst also consolidating free space and defragging large files. Then you can enjoy faster game launching speed, copy files in half the time, etc.
Up to 100% Faster PC Startup
Specific boot files in the system disk are not allowed to be moved safely while Windows is running, which causes a slower and slower system startup. The Boot-time Defrag feature of Smart Defrag 5 will easily do this job for you, it can help you safely defrag files on HDD. Furthermore, using a feature unique to IObit, it allows you to customize defrag specified files during system boost. After that you can enjoy a faster PC startup and top running speed on your PC with the most stability.
Safe & Automatic Disk Defrag
Smart Defrag 5 not only provides disk defragmentation as any other tool does, but also optimizes it by intelligently streamlining your files based on using frequency. With IObit latest disk defrag engine, it is just as safe for your files as using Windows. And you just need to install & forget it. Smart Defrag 5 will automatically work for you with no data lost.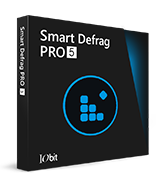 Free IObit Smart Defrag 5 PRO (100% discount) - SharewareOnSale