How to Use Driver Talent
Important:
To improve user experience,
DriveTheLife
has been updated to the new version called
Driver Talent
with a fresh new look and some fantastic features. Now all users can download this new version to fix computer driver issues.
Driver Talent
is a professional Windows drivers download and update utility. It helps to keep your computer and devices from conflicts and issues and make them work in top condition. It can instantly find all driver issues and then fix them by downloading and installing the best-matched drivers.
Below is the detailed guide of how to switch interface language, how to use Driver Talent (the Pro version) to download, update, repair, backup, restore, uninstall, and pre-download Windows drivers for computer hardware and devices, like wireless network, network card, display card, motherboard, Bluetooth, media card, Audio card, USB WLAN card, etc. Besides, you can also download common game components from the
Driver Status
section. After that, you will have a well-performing computer and won't have any problems on computer drivers.
Free download and install Driver Talent on your computer in Windows 10, Windows 8.1, Windows 8, Windows 7, Windows XP, Windows Vista, or Windows Server.
Note:
It's
FREE
to download, backup and uninstall/remove all drivers, including hardware drivers and peripheral (USB-connected) drivers. Also, to automatically install drivers, update drivers, restore drivers, pre-download drivers for your own computer, and download drivers for other PCs, you need to activate Driver Talent to the Pro version. Click on the "
Activate Now
" button on the software. In the pop-up window, activate to the Pro version for a lifetime license.
Part 1. Switch Interface Language
In order to let more users easily use Driver Talent, except for English, we add Arabic, Armenian, Bulgarian, French, German, Greek, Japanese, Korean, Persian, Polish, Portuguese, Russian, Slovenian, Spanish and Turkish to the interface language. The default language is English. If you are a German or French native user, you can switch the interface to your native language. It is easy to complete the switch. Go to
Settings
, find the
Language
option, choose German or French from the drop-down menu.
Part 2. Download and Update Windows Drivers to Fix Driver Issues
You will enjoy a lifetime license to all features if you activate Driver Talent to the Pro version. Now you can start to download and install drivers for your computer hardware or devices.
Step 1. Click on the "Scan" button in the interface and Driver Talent will have a safe scan on your computer to check all the hardware and devices. It will find all driver issues that cause computer problems, including the drivers that are outdated, missing, damaged, broken, corrupted, or incompatible
Step 2. After the scan, Driver Talent will list all the devices and driver status in the "Driver Status" section. You will have a very clear overview of them. There are one-click solutions --- select the drivers and you can one-click repair driver problems by downloading and installing the best-matched drivers, one-click update drivers, one-click reinstall drivers, one-click reboot, etc. Alternatively, you can download and install the drivers one-by-one.
Part 3. Backup Drivers
Backing up drivers is important because it enables you to restore drivers, especially when the drivers are missing or replaced with incompatible ones. This will help to avoid conflicts and errors. Moreover, it allows you to fix driver issues without Internet connection. For example, if you have backed up the network driver, you can restore it from backup to fix the "no Internet connection" issue. Then you will have Internet connection.
Click on "Backup Drivers" under the
Rescue Center
section. Driver Talent will automatically scan all the drivers and list the ones that need to be backed up. You can choose a certain driver or all of them and click on the "Start" button to back up the drivers.
All the backed-up drivers are stored in a default folder on your computer (E:\OSTotoFolder\DriversBackup). You are allowed to modify the backup directory in Settings.
Part 4. Restore Drivers from Backup
You can restore drivers from backup when necessary, especially when the drivers are damaged or missing. This helps to fix driver issues without Internet connection.
Click on "Restore Drivers" under the
Rescue Center
section. Driver Talent will automatically scan to detect the drivers that can be restored. Select the devices of which you want to restore drivers and click on the "Restore" button
Part 5. Create System Restore Point & Restore System
Are you confused or anxious when your computer get stuck or corrupted after driver/software/system update? Now no fret any more. You can use Driver Talent to backup your system (create a system restore point) and restore your computer from the system restore point where it is working properly.
From the
Restore Systems
section, you can see the system restore and system restore point creation. By default, Driver Talent will help to create a system restore point every time it installs or updates driver for your computer. In case your computer get corrupted or damaged, like blue screen, black screen, can't restart and so on, you can boot into safe mode and launch Driver Talent to restore your computer to the previous system restore point.
Note:
System restore will erase all the changes modified after the system restore point, so don't click the
Restore
button if you don't really need system restore.
Part 6. Uninstall Drivers
Driver Talent is quite professional to uninstall drivers totally and clearly without residual files, which is very helpful for you to install new drivers successfully. (If you try to uninstall driver files from Device Manager, there are probably residual files in the registry, which will cause issues for newly-installed drivers, such as the new drivers won't work properly.)
Click on "Uninstall Drivers" under the
Rescue Center
section. Driver Talent will list all the drivers that you can uninstall. Select the ones to uninstall. Remember that once you uninstall the driver for a special device, the device won't work. Download and install a new driver for it.
Part 7. Download and Update Peripheral Drivers (USB-connected)
If you have peripheral devices, such as the USB-connected devices, like a USB keyboard, a USB mouse, USB wireless LAN card, printer, etc. you can use Driver Talent to download and install the best-matched drivers to make the devices work properly.
Click on "Peripheral Drivers" on the left menu. There are two options under this section -
Printer Drivers
and
USB Drivers
.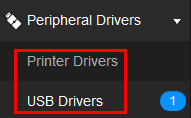 To download a network printer driver, click on "Printer Drivers". There are three search options for your choice:
Normal Search
,
Network Address Search
and
Network Section Search
.
Firstly, you can try to search your network printer by normal search. Check "Normal Search" and click on the
Search
button.
Part 8. Pre-download Drivers
The term pre-download means you can download drivers on your computer before anything about the system being changed (such as formatting, reformatting, system restore, OS update or downgrade, system changed, etc.), so that you can save the correct drivers and immediately install the drivers after the system being changed. You don't need to find drivers again online, especially when the computer doesn't have wireless or Ethernet Internet connection.
This "Pre-download" feature allows you to pre-download drivers for any Windows computer:
• Pre-download and save drivers for your own computer
• Download drivers for another computer
To pre-download and save drivers for your own computer
Step 1. Click on "For this PC" under the
Pre-download Drivers
section, and then click on the
Start
button in the right of "Step 1: Download drivers for the target OS".
Customize Settings
Click on the "Setting" on the left menu and you can customize the utility's settings according to your need. You can modify how to run Driver Talent, the languages, folders for driver download and backup, or your network
Give a 20% off
I would like to thank Driver Talent team for sponsoring this exclusive giveaway we have 10 lifetime licenses and 5 7-day licenses for the giveaway
OSToto Software Official Website – Download Drivers, Wi-Fi Hotspot, Faster PC Utilities
Announcing Referral Hunt Campaign for Driver Talent
Recently, the leading software company OSToto Co., Ltd. started a referral program for its best-seller Driver Talent, which is called Referral Hunt. Now the campaign is in full swing. Let's take a closer look at it.
Find solutions for common problems. We offer both Email and technical support for our software. Click to see the order FAQ, tech FAQ, user guide, registration code, and contact us.
1..reply about your experience with using Driver Talent
In one sentence, express your opinion about this software. (100 characters left)
2.sher the giveaway on social media or other forums and add the link in your reply
3.only one entry allowed per household
You must use your real IP address to enter it (not VPN or proxy).
IP address is that, after logging in using some PCs and the Internet, Try to keep your partnership all in one place, one network, and one family.
download.hr
Good Luck for all!
Last edited: