Enclave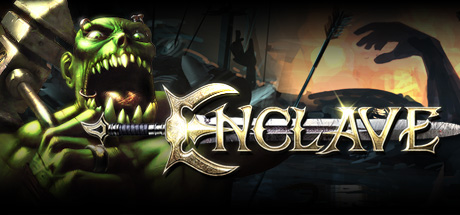 Experience incredibly atmospheric and intense medieval combat action!
Go ahead and enter a new world, the award-winning world of
ENCLAVE
!
The people of Light and Darkness are divided by a bottomless rift that split the earth many millennia ago. The lands of light are an Enclave of truth and order surrounded by the twisted and barren lands of the dark, known as the Outlands. Over the centuries the rift has started to close…

And now it is only a matter of time before the forces of Light and Darkness will clash in an unprecedented, merciless struggle for survival!
Remember... When a storm comes up, for some it's better to keep out of its way… while for others it's time to block its path!
FEATURES:
Breathtaking combat action
Amazing 3D graphics with latest Shader technolgy support
2 separate story driven single player campaigns: Light and Dark Campaign
25+ highly detailed fantasy themed missions
Secret bonus games
12 different playable character classes
5 mighty end bosses
Epic musical score and impressive sound FX
Enclave on Steam
KnightShift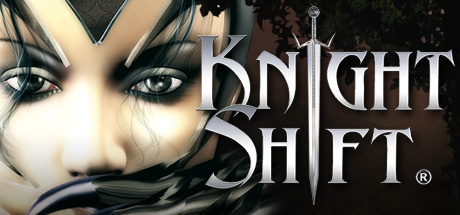 Do you like Real Time Strategy? or are Role Playing Games your preference…
Why not try both genres in one? … or even both separately? …
In one game:
KnightShift
!
In a mystical world beyond fantasy and imagination, where corruption and disaster go hand in hand, not all is as it seems. A dark adventure begins in the RPG part: divided into eight chapters of dungeons, rare treasures, very strange companions and gruesome opponents. Eight individually equipped characters are available to you in this action packed role-play. It is now down to you, the player to form your hero and help him to fame and victory.
As soon as Gallus has been freed he can get on with job of bringing Prince John back to his father's kingdom. Strategy begins here: with the support of your loyal subjects the fight against the powers of evil begins.
GAME FEATURES:
Two games in one, a gripping storyline with amazing characters in a living world of fantasy [RTS-Part in 24 exciting missions and RPG Part with 8 chapters and countless nerve tickling quests]
Skirmish RPG und RTS Mode with over 20 additional maps
Over 2,000 various weapons, equipment and magical items
Extensive multiplayer fun with companion and competitive matches over LAN and EarthNET™
Revolutionary graphics taking full advantage of Per Pixel Shader technology with automatic adaptation of the engine to fitted hardware
A brandnew Musical Score with over 75 pieces of original music
Completely 3D with a freely rotating camera
KnightShift on Steam
Knights and Merchants HD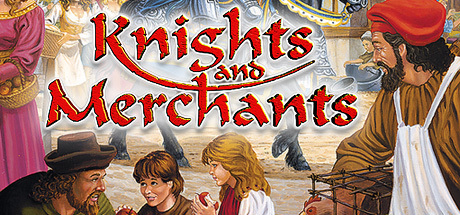 KNIGHTS and MERCHANTS
recreates the era of the Middle Ages. Apart from the purely fictitious geography of our world, all game elements and scenes are based on the Anglo-Saxon period, 1200 A.D. And we haven't used imaginary elements like fabled creatures, either. The player takes on the role of an ordinary captain in the Palace Guard. A conspiracy against the king catapults the captain into a situation where he finds himself responsible for the defence of the last royal province. This is all that remains of the shattered kingdom, which has been split into numerous small principalities and fiefdoms. And now even the king himself, ensconced in his capital, is threatened by enemy armies. This is the starting point of your Middle Ages adventure. Now you must win back all those provinces which once belonged to your king.
THE SHATTERED KINGDOM:
After many battles, a former kingdom has been divided into many small principalities and earldoms. The kingís troops were pushed back into one last royal province, and the rulers of the other provinces waged terrible, destructive wars against one another. The whole land fell into a state of chaos and now the former royal capital itself is under siege by the armies of the rebel lords. You belong to the last remaining group of loyal kingís men, and have been commanded to go to the king in view of the imminent
attack.
THE PEASANTS REBELLION:
Build a prosperous settlement with a complete economy. Arm your troops and meet the enemy on the battle field! Master these tasks and the King's subjects will be able to live in peace and freedom again.
GAME FEATURES:
Middle ages simulation and Real-time strategy
2 campaigns "The Shattered Kingdom" and "The Peasants Rebellion" with a total of 34 missions
Skirmish Mode and 10 Multiplayer-Maps
About 25 different types of buildings
More than a dozen different types of characters
Over 10 different troop types, including archers, scouts, knights, bowman and barbarians
Multiplayer battles with up to 6 players in LAN or through the Internet
New Musical Score
Knights and Merchants on Steam
Two Worlds - Game of the Year Edition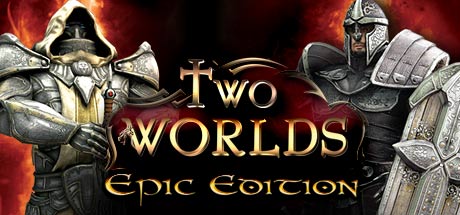 ... 300 years after Aziraal has been banished, a brother and sister are drawn into the conflict which has flared up between the Orcs and the free world. Kyra, the hero's younger sister, suddenly disappears in mysterious circumstances.
«
...If my family really belongs to the chosen ones, why then have we always been as poor as church mice? I have never given much credence to all the old stories about a relict in our family's possession - one which supposedly bannedAziraal, the god of the Orcs - they say that only those ofmy bloodwere chosen to safeguard the secret.
'Tis nothing but nonsense methinks – however, my sister Kyra always listened eagerly to the stories of the old ones... but she vanished several months ago...
»
To all intents and purposes you're an unscrupulous bounty hunter and mercenary - but the search for your sister takes you back to your roots.
At the beginning of your epic adventure, a mercenary task takes you to the far north - but you're also following up a mysterious lead at the same time - the first clue you've been given since Kyra's disappearance. You get a shock during a meeting with the delegates of a dark Brotherhood - your sister's kidnappers are indeed after your family's relict. Whether there's any truth in your family being chosen ones or not, the others obviously believe it - and if you ever want to see Kyra alive again, you'll have to act swiftly...
Includes the original Two Worlds, plus the add-on Tainted Blood
OVER 90 NEW QUESTS: Journey even deeper into the world of Antaloor with over 90 new quests and eight new multiplayer maps
Soundtrack by Grammy Award Winner Harold Faltermeyer
FEATURES:
STUPENDOUS LANDSCAPES: in a fantasy world where every inhabitant leads a separate dynamic life with realistic daily routines, your deeds will determine the fate of the strife-torn land of Antaloor.
PLAYING FREEDOM: Two Worlds is not for those who don't like making decisions, because you'll often have to take one side or the other — an intelligent, networked reputation system for guilds and secret societies makes sure of that.
KNIGHT, THIEF, MAGE OR ALCHEMIST: spectacular, dynamically-choreographed fights on foot or at full gallop. An absorbing alchemy system for creating individual potions and power-ups provides diversification - and carrying out break-ins in Sneak mode will have your nerves jangling! If this still isn't enough, try the sophisticated magic system...
INTUITIVE INTERFACE AND INDIVIDUAL DEVELOPMENT OF ATTRIBUTES: you can experiment with all the character attributes and develop your skills as and when you like. An elaborate inventory system ensures that you always have a clear overview — no matter how hot the action gets.
MASSIVE MULTIPLAYER INCLUDED: bustling towns are the trading centers and meeting points for several hundred players. Self-created characters fight gripping PvsP duels in Arena mode — or solve a series of exciting quests as allies.
UPDATED GAME ENGINE: The brand new 1.6 engine update now included!
Two Worlds Epic Edition on Steam
Steps:
1. Register (
User Area - Register user | DLH.NET The Gaming People
2. Login to the site
3. Click on the "Profil/Keys" (
DLH.NET The Gaming People
4. Scroll down
5. Click on the "Get your Steam Game here"