Ant Download Manager
is a fast and easy downloader of any internet files. Advanced support of many popular video services (DailyMotion, Facebook, Rutube, Twitter, Vimeo, etc.).
Main Features
Full integration to most popular web browsers: Internet Explorer 8+, Mozilla Firefox 32+,Google Chrome 31+ and their clones ( Pale Moon, Opera, Vivaldi, Slimjet, ComodoDragon, etc.).
Built-in video grabber browser allows you to download videos from many sites and video services. There is a video button to facilitate the selection of the video, its size and quality. Supports a lot of popular video services: youtube.com, vimeo.com, dailymotion.com, facebook.com, instagram.com, rutube.ru, coub.com, vine.co, bbc.com, twitter.com and many others. List of sites and video sharing is not conducted. General algorithms allow you to download videos from many resources which the developers did not even know.
When capturing video AntDM always offers to extract from the video sound and convert it to MP3 format. To do this, there is a menu item of video button. In some cases, it may be a message asking about converting audio to MP3 format.
There is a simple convenient feature to preview the video files in the main list of downloads. Move the mouse to the line of video or audio file and AntDM will launch mediaplayer in the tooltip window.
AntDM has the ability to reduce or significantly reduce the download speed and thereby allow other programs to run faster (eg, browser). By default AntDM download speed is unlimited.
Multi-threaded download is one of the key functions of any download manader files. This significantly speeds up the download of files (in some cases up to 10 times).
Most web servers allow multi-threaded downloading. AntDM allows to set to download from 1 to 32 threads. In general, the recommended 5-8 threads per download. This allows you to upload multiple files at once and do not overload your computer.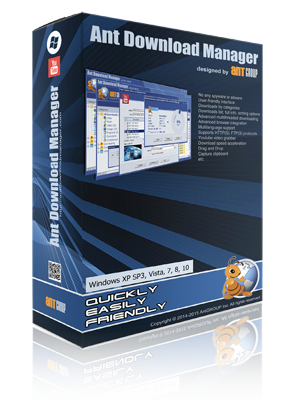 Ant Download Manager & Video Downloader Ant Download Manager is a fast and easy downloader of any internet files. Advanced support of many popular video services (DailyMotion, Facebook, Rutube,