1AV Sound Recorder is a sound recorder with the ability to capture audio from any source available on the PC. With 1AV Sound Recorder you can record your voice, you can record what you hear, and you can record audio from external devices connected via Line-In.
Being able to illustrate your point with comprehensive examples and using foolproof means of communication is of critical importance, especially if your recipients rely on your responsiveness, and sometimes, conveying your message in writing does not seem enough.
For situations in which you need to record your voice for an extra touch of originality, software solutions such as 1AV Sound Recorder are there to help you and make the entire process as untroublesome as possible.
Intuitive tool that helps you record audio from any source
Before anything else, a few words are in order about the program's main capabilities. What it does is help you record sound from any source on the computer. It can thus be a handy companion when trying to capture your voice, what you hear, or audio from external devices connected via line-in.
Following an uneventful setup, the program greets you with a simplistic and intuitive user interface that should pose no difficulty even to the more inexperienced of the bunch.
Captures sound and automatically saves it as MP3 files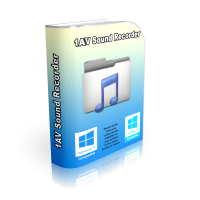 1AV Sound Recorder is a sound recorder with the ability to capture audio from any source available on the PC. With 1AV Sound Recorder you can record your voice, you can record what you hear, and you